Outdoor cultural café: Café Steinchen
There are so many good places that have opened up during Corona. One of them is the open-air café Steinchen in Laim. You can enjoy coffee and cake, delicious snacks and drinks all year round on the sunny seats in front of the café on wheels.
Most Munich residents can probably recite café recommendations for Schwabing, Glockenbach or Haidhausen in their sleep. Café tips for Laim, on the other hand, are probably only for real Laim locals. However, one café that is probably now known beyond the Laim area is Café Steinchen on Agnes-Bernauer-Straße. The focal point here - alongside the two sisters and founders Laura and Alexa Steinke - is an orange construction trailer that functions as both kitchen and kiosk.
© Felix Thomann Photography
The sisters have been running Café Steinchen since June 2020. However, they have not been alone for a long time, as the café team has grown considerably since then. This is not least due to the great success and the many regular customers. Everyone is welcome here and feels welcome - parents with children rub shoulders with teenagers enjoying a hangover breakfast. A little spot of happiness on Laimer soil, so to speak.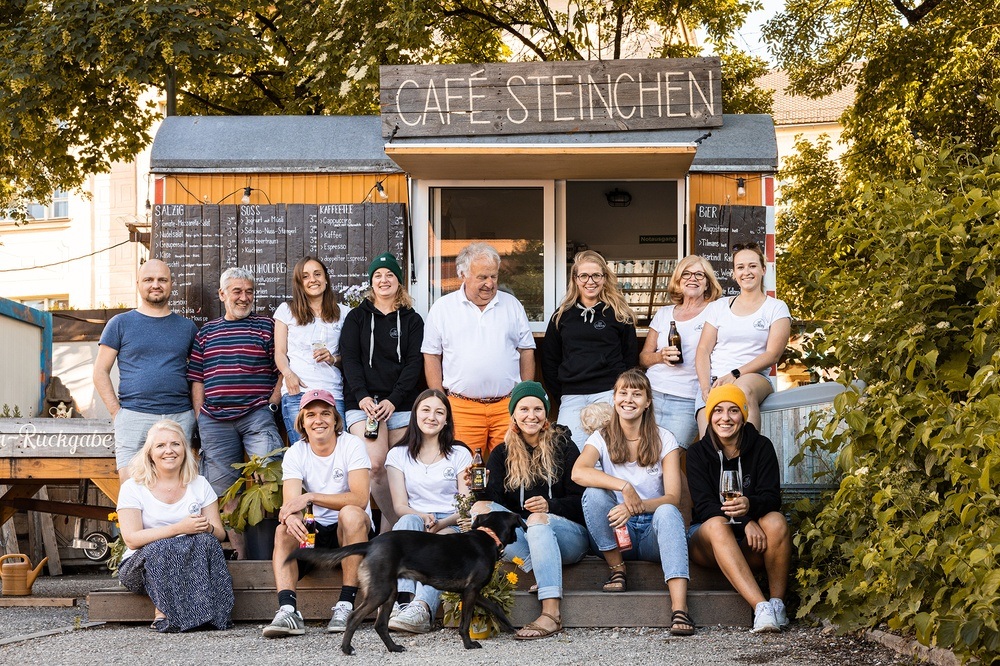 © Felix Thomann Photography
What's on offer at Café Steinchen
From Tuesday to Sunday from 11 a.m., the window of the orange construction trailer opens. Then you can treat yourself to a breakfast such as natural yoghurt with muesli, nuts and dried fruit. Or you can dive straight into the lunch menu. There is a daily changing selection of soups and stews as well as pasta salad with sun-dried tomatoes, feta and olives. Salty follows sweet: look forward to really tasty homemade cakes at any time of day. And if you come by in the evening for a beer or a glass of wine, you can order snacks such as olive or cheese two ways.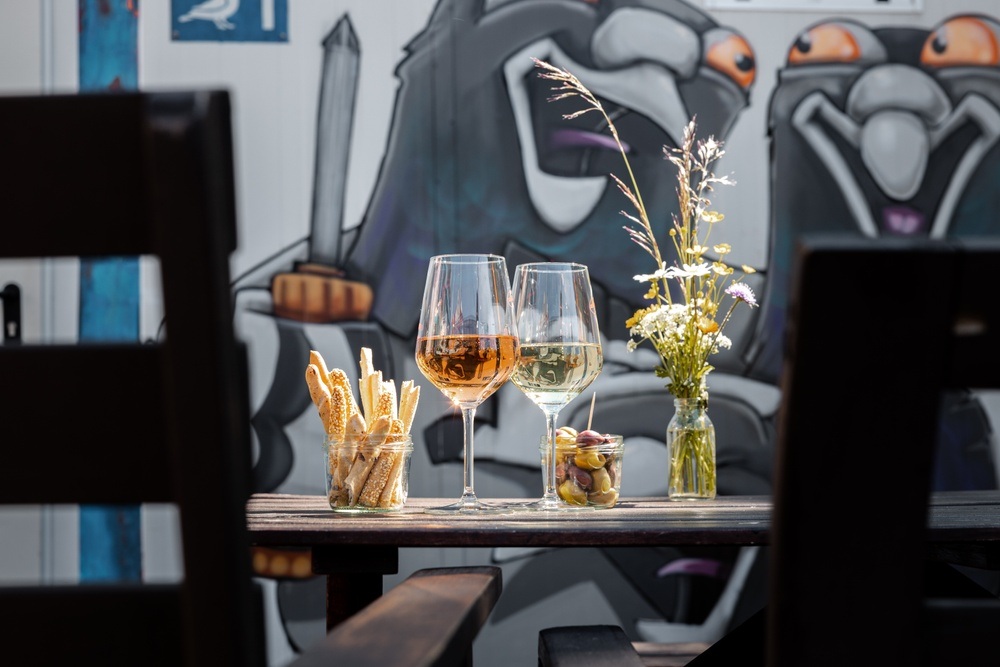 © Felix Thomann Photography
There is a special highlight for all meat lovers at Café Steinchen from Friday to Sunday and on public holidays: a veal sausage breakfast served in grandma's teapots. The sausages come from Oberlandmetzgerei Schwaiger in Neuhausen - in other words, completely regional.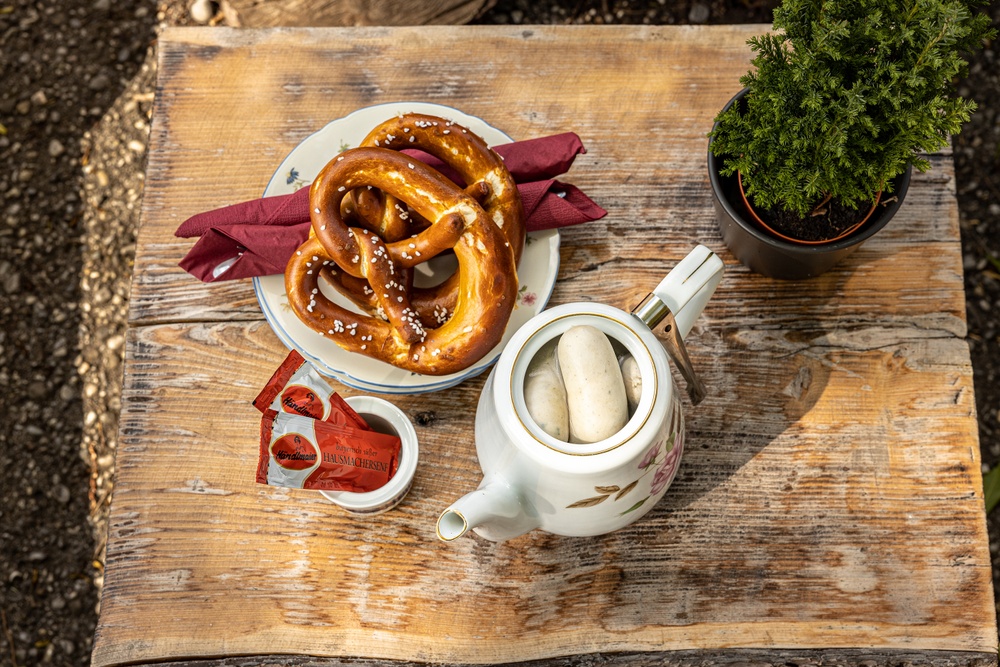 © Felix Thomann Photography
Most of the seating is outside, but you can also enjoy the small indoor area, the lounge, on cold or rainy days. When it gets really cold in winter, you can get a steaming hot cup of mulled wine or punch and warm up by the fire bowl. It's a wonderful place to spend time even in these months.
Live concerts and seasonal events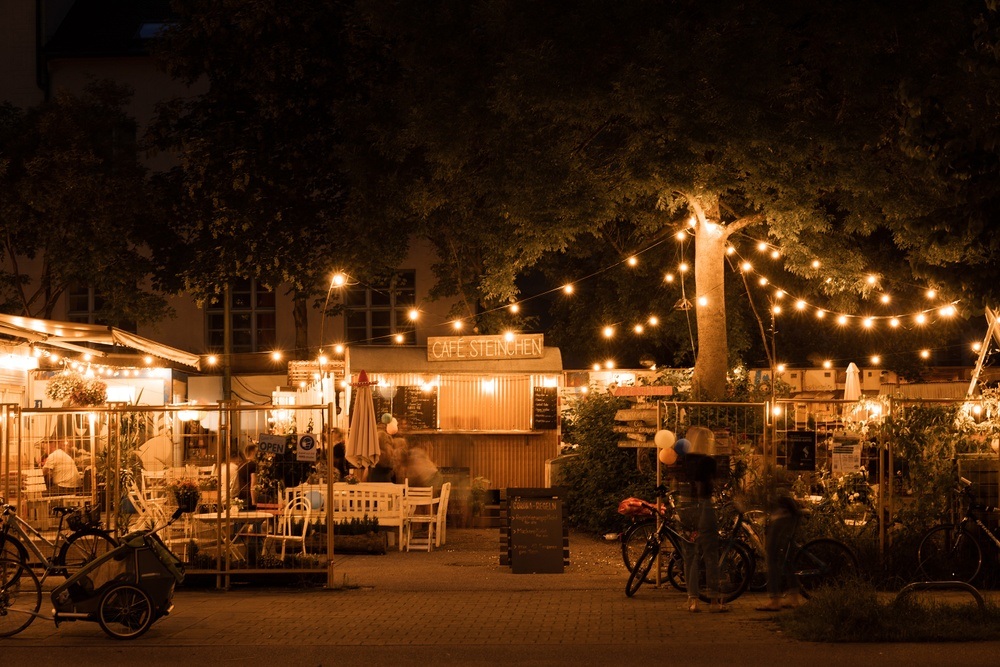 © Felix Thomann Photography
It's always worth taking a look at the program for the week when you visit Café Steinchen. There is something on offer almost every day, weather permitting: Live concerts, clown visits for all young visitors, second-hand markets or pumpkin carving in October. You can find an overview here. So if you've never been to Laim before: Café Steinchen alone is definitely worth the "trip".
This content has been machine translated.