Vegan burgers and pancakes: Emmi's Kitchen
Dear vegans and friends of vegan food - we have good news: Emmi's Kitchen is back for you! The restaurant is defying the lockdown and wants to continue to provide you with delicious vegan food to go. Burgers, bowls and pancakes simply make the current situation easier to bear.
Status: 19.03.2021
It wasn't all bad last year - Emmi's Kitchen opened a second restaurant in Giesing in summer 2020. Unfortunately, it remains closed for the time being, but you can enjoy the vegan cuisine of Emmi's Kitchen in Buttermelcherstraße again for a week now. If you think vegan food is boring, you should definitely pay the restaurant a visit. A responsible approach to nature and a vegan lifestyle also work really well with juicy burgers, fries and pancakes. You can also save on packaging waste here. Emmi's Kitchen cooperates with Vytal, a reusable system for food to go without a deposit.
© Emmi's Kitchen
Hearty and sweet treats
You'll find real soul food on the menu. How about a Spicy Jackfruit Burger with homemade BBQ sauce and vegan cheddar or a Beyond Cheese Burger with - you guessed it - a Beyond Meat Patty and extra vegan cheese? Don't miss out on the lunch special: Wednesday to Friday you can get the Classic Burger incl. fries for just €9.90.
If you fancy something sweet, we recommend the American pancakes with fresh fruit, maple syrup and homemade granola. For dessert, you'll be spoiled for choice between cinnamon buns, chocolate avocado cake or lime cheesecake. If you're looking for fewer calories and more vitamins, you should try the bowls. They contain lots of delicious vegetables, nuts and nutrients. Although the dishes are not super cheap, you get freshly prepared food every day, made with lots of love and high-quality ingredients.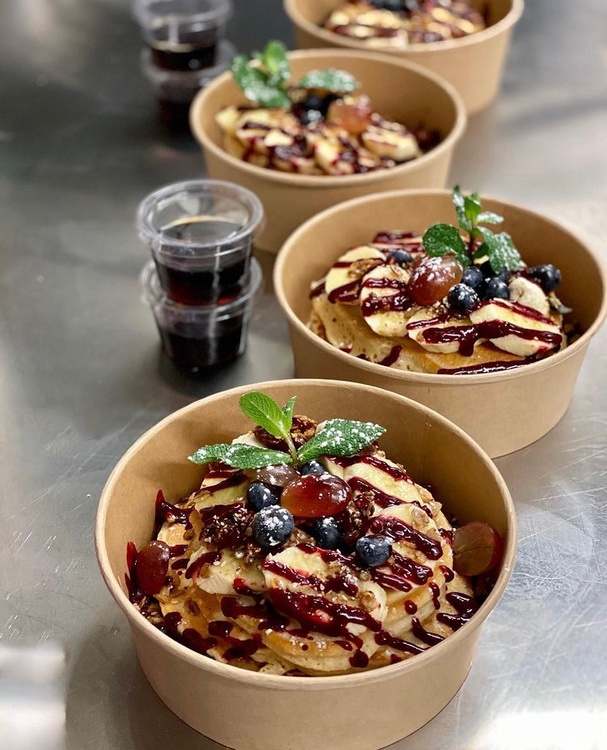 © Emmi's Kitchen
How to order
Incidentally, the restaurant has spent its time in lockdown doing some renovation and improvement work. So you can look forward to the reopening even more. During the lockdown, you can enjoy vegan delicacies from Emmi's Kitchen from Wednesday to Friday from 11 am to 4 pm and Saturday to Sunday from 10 am to 4 pm. Just drop by or pre-order at +49 89 55261878 .
PS: Emmi's Kitchen also offers brunch boxes from time to time!
This content has been machine translated.