Sponsored
Be inspired at the Heim+Handwerk and FOOD & LIFE trade fairs
One ticket, two trade fairs: From November 29 to December 3, you can get new inspiration for your own four walls, find extraordinary gift ideas and indulge in culinary delightsat Heim+Handwerk and FOOD & LIFE in Munich. 🤩
So, have you bought your Christmas presents yet? 🎁 We think so: This double fair is perfect for discovering unique gift ideas. Between sustainable furniture, stylish kitchen accessories and culinary treats, there's sure to be something for your friends & family. But you won't miss out either: on the exhibition grounds, you can feast your way through samples, listen to exciting talks and discover lots of other surprises - like Christmas, a birthday and Easter all in one day. 🥳
Home+Crafts
Heim+Handwerk is all about living, lifestyle and craftsmanship. 🛠️🪑From trendy furnishing ideas and modern smart home solutions to individual carpentry furniture - this is where your living dreams come true. Be inspired, get advice and take your newly discovered favorite pieces home with you.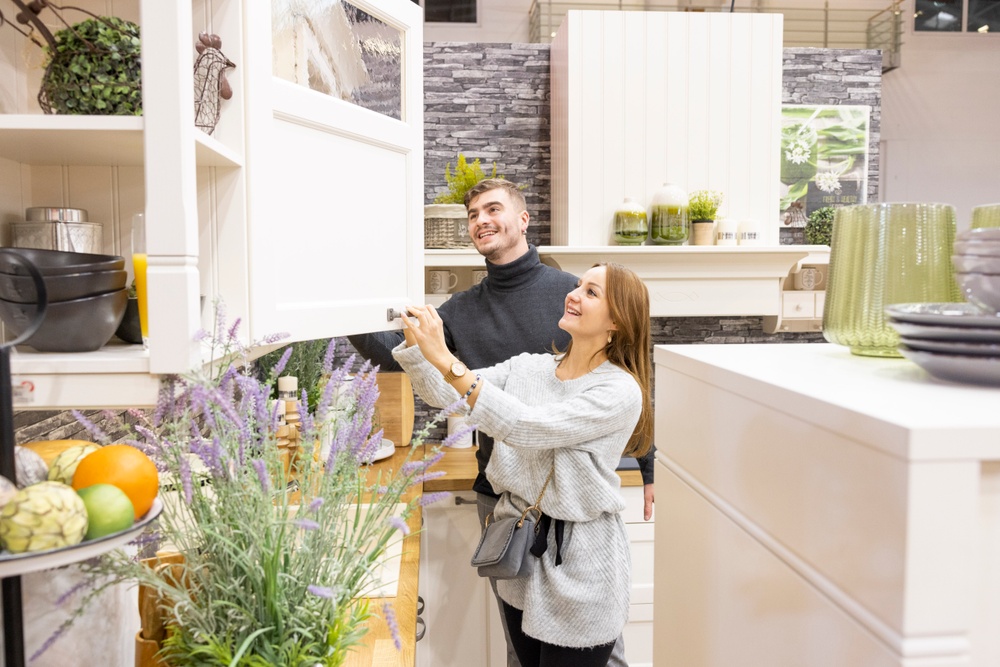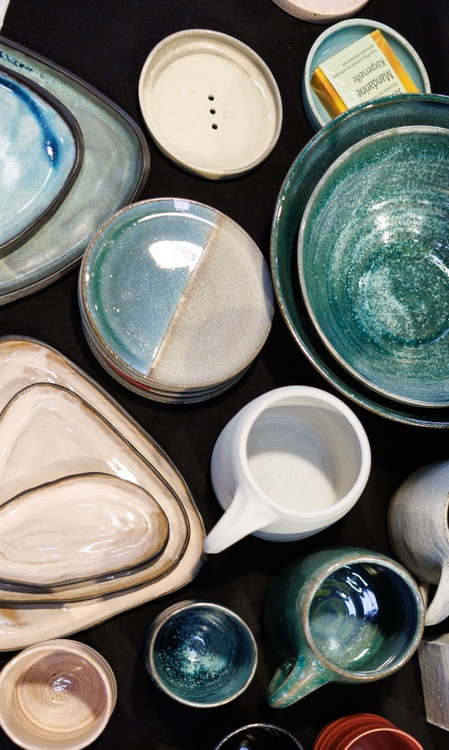 Copyright: GHM
Sustainable? Of course!
Sustainability is an important topic at this year's fair. Exhibitors from all sectors will be showcasing creative innovations and providing information about individual solutions for the home.
In the start-up area in Hall A6, newcomers will be presenting products outside the mainstream - sustainable, unusual and handmade. Among them: the manufacturer Acara Silva, which combines regional added value - from the tree to the finished piece of furniture - with the quality of traditional craftsmanship, and the South Tyrolean start-up Slowli Concept, which produces concept furniture by hand in collaboration with local manufacturers, social workshops and independent artists. We love it! 💚
With your bestie into your feel-good home
Another highlight is the "freundin Wohlfühl- Zuhause", alsoin Hall A6. Here you can not only find inspiration in the stylishly furnished showroom, but also listen to daily talks and discussion panels. For example, Lotte Lehmann will tell you how you can bring clarity and order into your own four walls and get rid of unnecessary items.
🤫 Watch out: Because discovering new things is more fun in pairs, Heim+Handwerk is offering a girlfriend ticket on Thursday, November 30 in cooperation with freundin magazine. As part of the social media campaign, there are two tickets for the price of one. In addition, friends can look forward to a goodie bag and special offers. You shouldn't miss out on this. 😍
FOOD & LIFE
Drinking cocoa that floats through the air, a praline that increases the feeling of happiness and drinkable gingerbread - the foodies among you should definitely stop by in Halls A4 and A5: Because FOOD & LIFE, which is taking place at the same time, will be serving up plenty of cooking inspiration and surprising culinary experiences.👩‍🍳🍴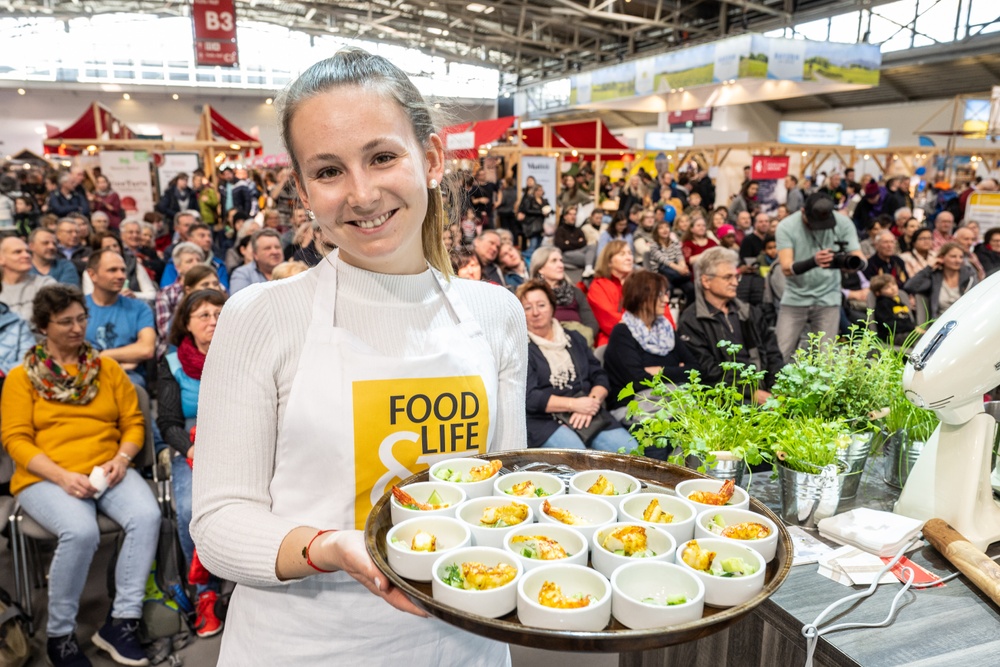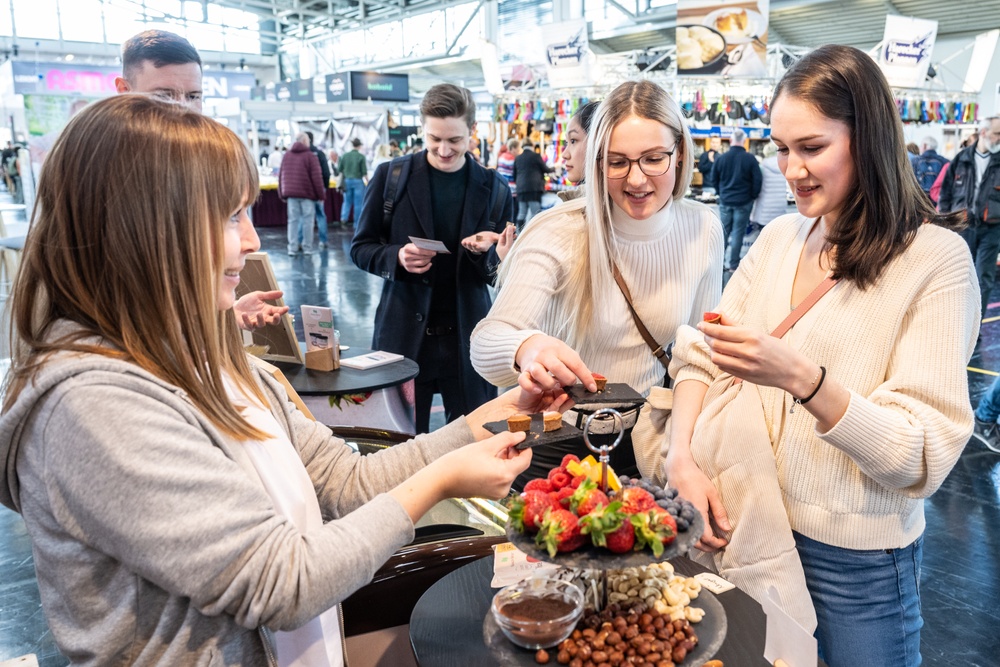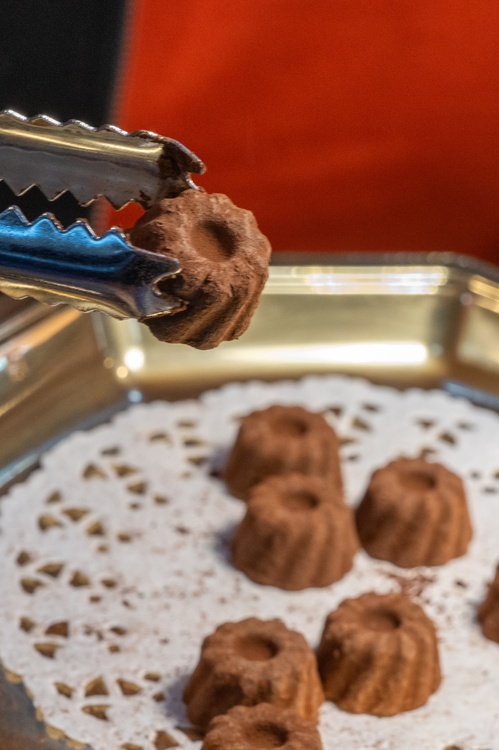 Copyright: GHM
250 exhibitors will serve you innovative culinary delights and Bavarian moments of pleasure with purely handcrafted delicacies from the region. In addition, food trucks and exhibitors provide a wide range of on-site catering. Between Pinsa&Pasta, vegan kebab and poffertjes, there is sure to be something to suit your taste.
Spectacular shows
On stage, luminaries such as star chef Franz Keller and Kitchen Impossible chef Graciela Cucchiara will demonstrate their culinary skills. The world-renowned patisserie and chocolate master Matthias Mittermeier will not only delight the palate, but also the eyes. Also on the program: flying tartlets, exploding popcorn and a 1-minute cake recipe. We promise: amazement and tasting are pre-programmed here. The best thing about it? Many of the tricks are easy to recreate at home.
Speaking of chocolate...
If you want to know what makes a really good chocolate, you've come to the right place with Kerstin Spehr. The Munich-based chocolate school operator will introduce you to the world of the cocoa bean at the trade fair. Chocolatier Ian Baker, notasweet, EatDream and many other manufacturers will be showcasing other chocolatey delights. Tasting is expressly encouraged. 😋
FOOD START.up area
In the FOOD STAR.up area, innovative newcomers to the food scene will be serving up their latest ideas: For example, Bavarian honey gin, vacuum-fried low-fat vegetable potato chips and baking mixes made from chestnut flour.
Hard Facts:
⏰ Open daily from 29.11. to 03.12.2023 from 9:30 am to 6:00 pm
📍Fairground Munich (East Entrance of the Munich Trade Fair Center)
🎟️ Tickets cost 15 euros (or 9 euros with a discount for pupils, students and pensioners, for example) and are available online.
Children up to the age of twelve have free admission. Reduced afternoon tickets are available from 15:00 for 7 euros.
This content has been machine translated.