Vegan ice cream, banana bread & coffee: Keep Banana
Everything banana - at least when it comes to ice cream and banana bread. That's the motto at Keep Banana in Sendlinger Tor. Behind the store are brothers Markus and Thomas Mayr. Both spent a long time working as software sales representatives in Germany and abroad and came into contact with a wide variety of cultures and cuisines. They packed their experiences into an idea: saving ripe bananas from the wholesale market and turning them into vegan, sugar-free and gluten-free soft ice cream. This and other good things are now available at Keep Banana in Sendlinger Tor.
Status: 29.09.2021
© Natalie Riedel
Soft ice cream, coffee, croissants and banana bread
The brothers rescue the bananas used for the soft ice cream from the wholesale market in Munich. The yellow and very ripe bananas are often no longer wanted there. However, they are perfect for the Keep Banana concept. Markus and Thomas combine the bananas with a little oat milk and dates to make the delicious soft ice cream - the result is the Original Flavor. In addition, there is a different creation every week, such as raspberry, strawberry or acai, as well as peanut, matcha or chocolate. The soft ice cream is then topped with various toppings such as fresh or freeze-dried fruit, nuts or cocoa bean chips as well as a choice of chocolate or caramel sauce, all of which are usually organic. So it's worth popping in once a week.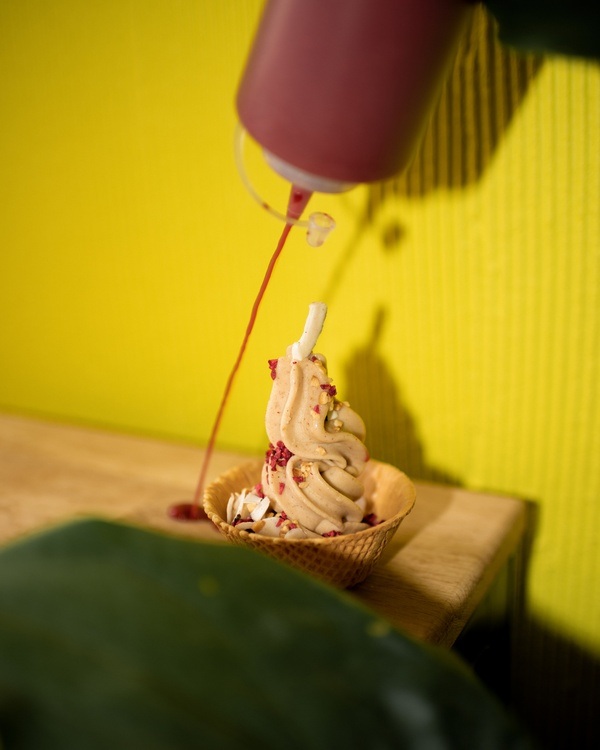 © Natalie Riedel
If one ice cream is not enough, you can order a slice of banana bread with your ice cream - which is also available lightly toasted. The croissants at Keep Banana are banana-free, but also vegan and delicious.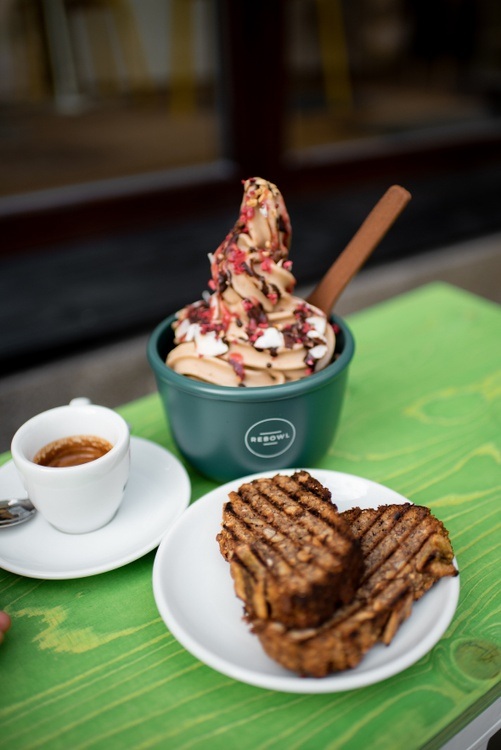 © Natalie Riedel
What's missing for happiness? Coffee.
Next to the soft ice cream machine is a La Marzocco machine (for the coffee nerds here), which provides you with the best espresso from the organic roastery Merchant & Friends from Hermannsdorf. You have the choice between a dark roast with a higher Robusta content ("Italian" roast) and a light roast (100% Arabica) with a little more fruit and acidity for coffee connoisseurs. Milk is also available, namely oat, pea or soy milk.
With all the brothers' good thoughts, there were also some about avoiding waste. If you don't fancy a waffle, you can also get the soft ice cream served in a Recup cup or Re-Bowl. Whether waffle or Recup - the "stick" for eating is not made of plastic here either, but of a flour mixture and can be eaten.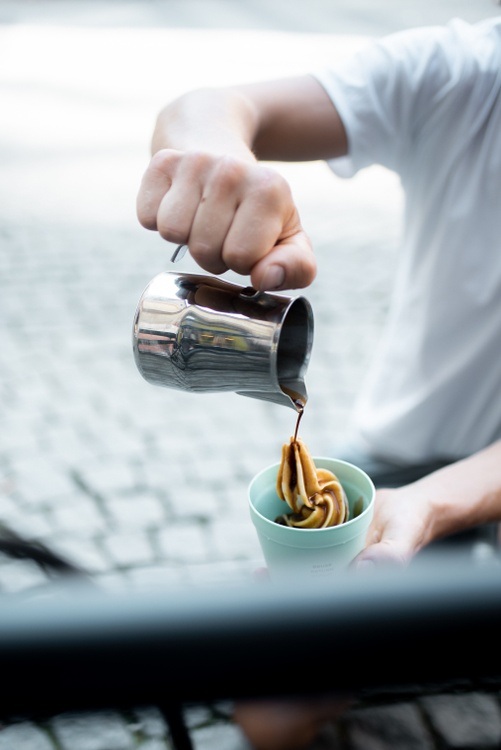 © Natalie Riedel
Last but not least, a tip from Markus and Thomas: order lightly toasted banana bread and ice cream with sauce and toppings. The combination of hot and cold works really well here. If that's not hot love!
This content has been machine translated.