Good wine meets pulpo and artichoke: The Obalski
A new restaurant moved in above the Charlie in Untergiesing in mid-November 2021, bringing a breath of fresh air to Munich's gastronomic landscape with its exceptional cuisine and ambience. Not least because it achieves a very special balancing act: being classy but pleasantly casual at the same time. Welcome to and at Obalski.
Before we enter the premises on our first visit, we watch the hustle and bustle in the Obalski through the windows. Small and large marble tables stand in front of dark green walls, candlelight flickers everywhere and guests of all ages sit contentedly in front of elegantly arranged plates. Even from the outside, the Obalski looks really inviting.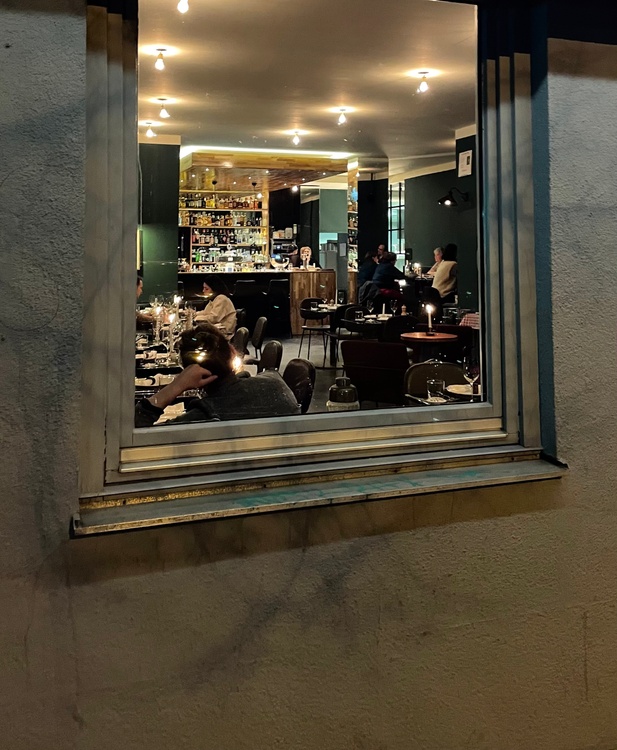 © Annika Wagner
If the name of the restaurant conjures up images of music, good drinks and public entertainment, you're right. The tenant is Dominik Obalski, who has mainly been found behind various bars and DJ desks in Munich. A few of his vinyl records also adorn the restaurant walls, so it's clear where the restaurant gets its relaxed vibe from.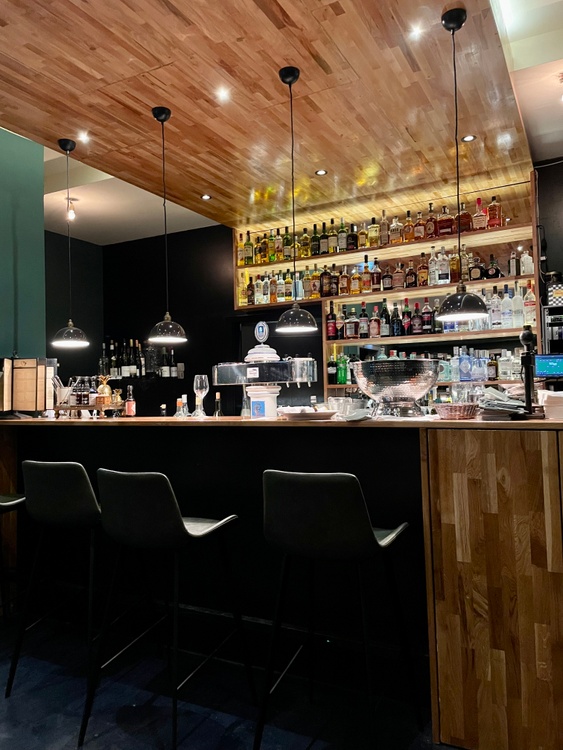 © Annika Wagner
Florida cuisine with a French & Italian twist
A clearly laid out menu that combines three countries and yet everyone will find what they are looking for - the Obalski also scratches this curve. If you fancy an "entrée", you have three options for nine euros each: a whole artichoke with French vinaigrette, pork belly in teriyaki soy sauce or burratino on cherry tomatoes with salad and a slice of bread. We recommend the former. And don't be afraid to tear the artichoke apart with your fingers. After all, that's how it should be.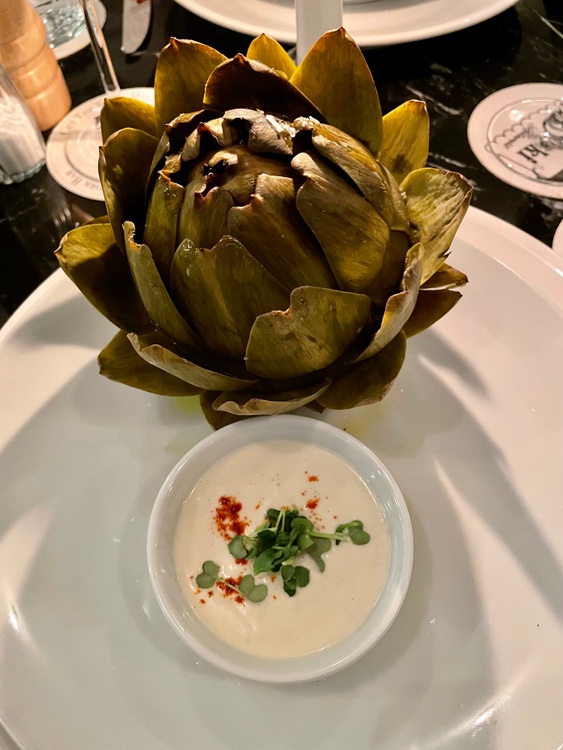 © Annika Wagner
The four "mains" on the menu (from 15 euros to 21 euros) - chicken, squid, roasted meat and sweet potato - can be combined with various side dishes. And they are also impressive: wild broccoli, a romaine lettuce heart with parmesan (Grilled Heart of Rome), truffle fries or mac & cheese await you. America says hello to France and Italy too. Finally, we would like to make a positive note here that by serving the side dishes on separate plates, the dishes all come across as purist.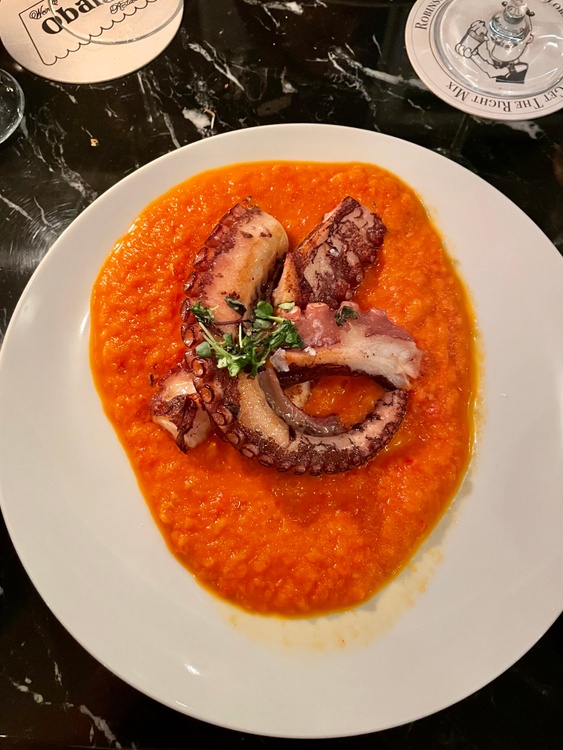 © Max Schader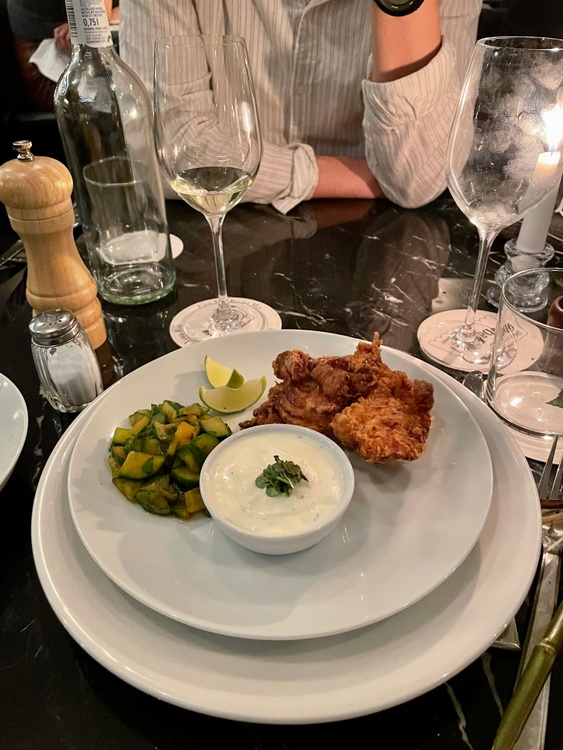 © Annika Wagner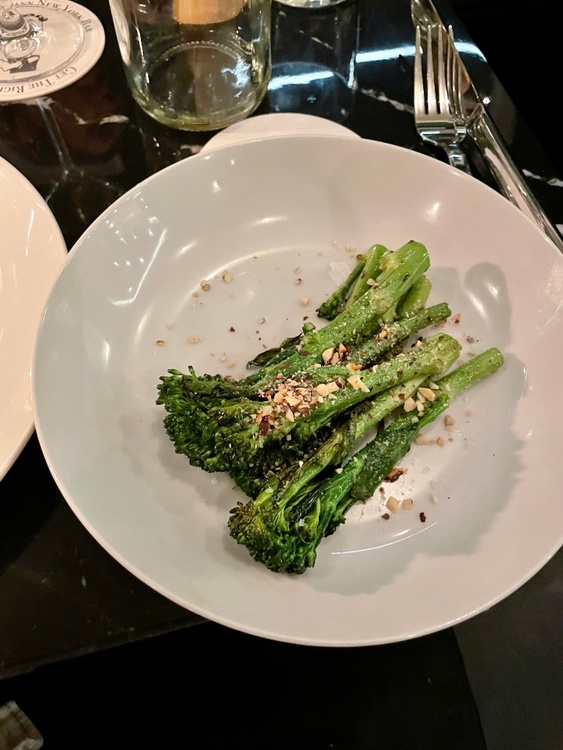 © Max Schader
If that's all too fancy or a little too expensive, you can order a steaming portion of parpadelle with ragout. Classic Italian, down-to-earth good and available for 15 euros.
For dessert, take another trip to France - the Moelleux au Chocolat will round off your evening perfectly (at least in terms of food).
Wine bar & cocktail menu
We were also impressed by the wine list. The chef has designed it in such a way that every guest can afford a good bottle - of the wines they know and others that Obalski hopes they will try after a few visits. His wish for the Obalski is that people will come to the Obalski to drink wine in a relaxed atmosphere - in the wine bar in the adjoining room in the cold months and then in the large bar garden and on the terrace in summer.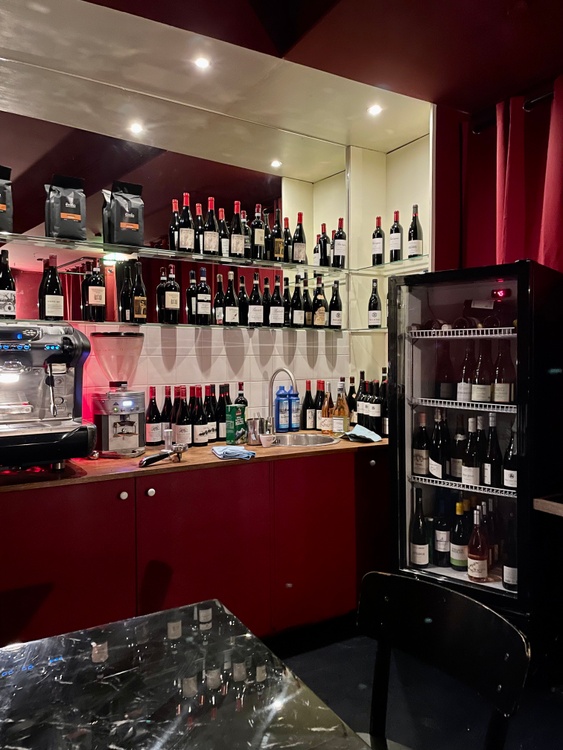 © Annika Wagner
When it comes to highballs, fizzes and punches, you can of course rely on Obalski as a professional bartender of many years' standing. The cocktail menu delivers what it promises and anyone with a special request will not be neglected.
We see a lot of potential in this very special restaurant that has established itself in Untergiesing. Come by - to immerse yourself in new worlds of wine or for a special evening with exceptional cuisine.
PS: If you want to give an evening at Obalski as a gift, you can buy good-looking vouchers online and on site.
This content has been machine translated.