A warm soup is a treat for body, mind and soul. A delicately spiced pho is particularly delicious. The traditional beef broth is a popular national dish in Vietnam and is eaten at any time of day - including in Munich, of course. Find out where you can find the best pho in the city here.
Ca Go Pho - Isarvorstadt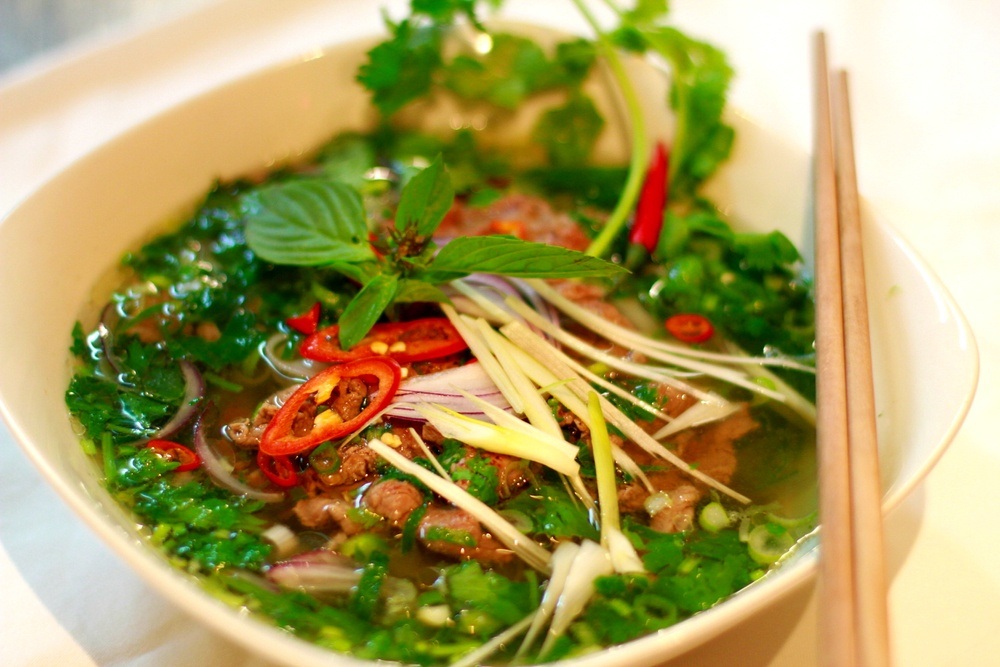 © Ca Go Pho
The family-run Ca Go Pho on Goetheplatz is modeled on a hidden street food bar in Asia and is an absolute insider tip for delicious pho in Munich. True to the motto "You don't need a silver fork to eat good food", the food prepared here is uncomplicated, fresh and made with love. You can order your pho with beef, chicken or tofu. Normally it is super cozy to sit in the small restaurant - currently you have to take your order home with you. Your pho will be packed in two separate, sustainable containers so that the contents don't get soggy on the way home. We recommend you check out the lunch menu. From 12:00 to 15:00, you can treat yourself to pho for just 8.90 euros. In addition to pho, Ca Go Pho also serves delicious bowls, wok dishes and curries.
Where: Kapuzinerstraße 2
Pho You - Maxvorstadt
The name says it all here. At Pho You, you can order the classic beef broth with rice noodles, bean sprouts, chili, chives, Thai basil and coriander in four different versions. You can choose between beef, chicken, tofu and vegetables. The vegetable version comes with peppers, broccoli and carrots. During the lockdown, Pho You offers a delivery service that delivers the hot broth directly to your home. The price of the Pho is between €9.50 and €10.90 - depending on whether you pick up the food yourself or have it delivered. In addition to soup, Pho You also serves beet, lemongrass and teriyaki bowls.
Where: Barer Str. 56
Annam Grill - Glockenbach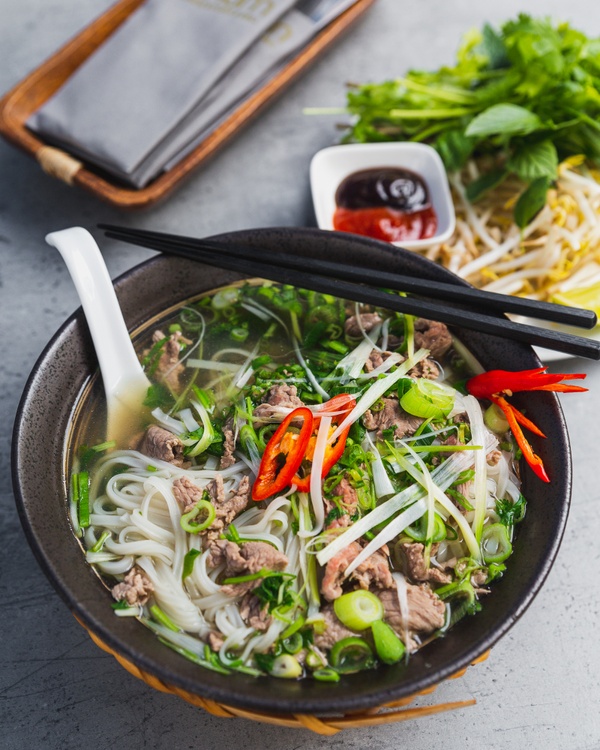 © Annam Grill
It's worth coming by - at Annam Grill, all self-collection customers get a 10% discount. The pho is served here in the classic way with beef, rice noodles, herbs and bean sprouts. The price varies between 6.90 and 12.90 euros, depending on the size of the portion. If you don't fancy beef but really want to eat soup, you'll also find what you're looking for here. How about Hoanh Than Tom, a soup with homemade wan tan batter made from prawns and bamboo? Or Canh Mie Tofu, a glass noodle soup with tofu? There is something for every taste in the menu of this somewhat upmarket restaurant.
Where: Waltherstraße 30
Fei Scho - Glockenbach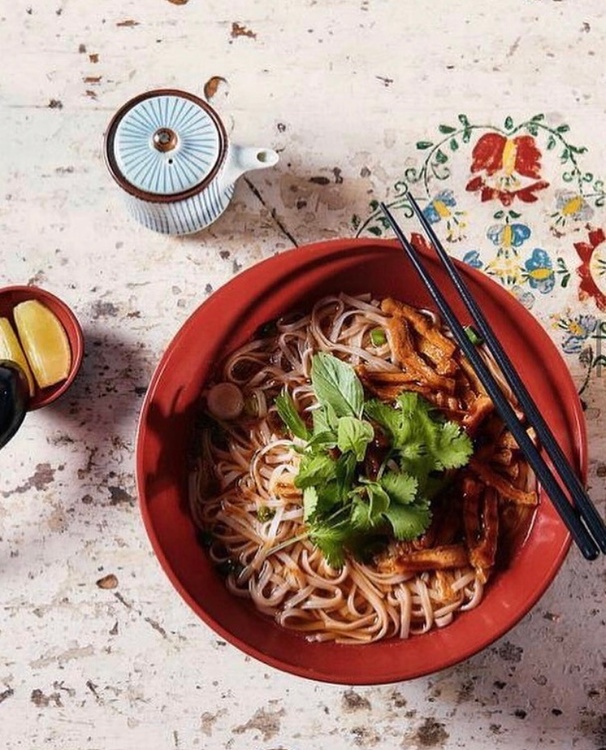 Asia meets Bavaria at Fei Scho . The dishes at this cozy restaurant are brought together from different parts of Asia - the curry comes from India, the salad dressing from Mongolia and the soup, of course, from Vietnam. The pho is served here in the classic version with beef and beef broth, but also as a vegan version with tofu and vegetable broth. In fact, this is the only vegan broth we could find. The compostable packaging of Fei Scho, which you still have to resort to at the moment, is a big plus point. The price of the Pho here is 6.50 euros for a small portion or 12.50 euros for a large portion.
Where: Colosseumstraße 6
Ha - Westend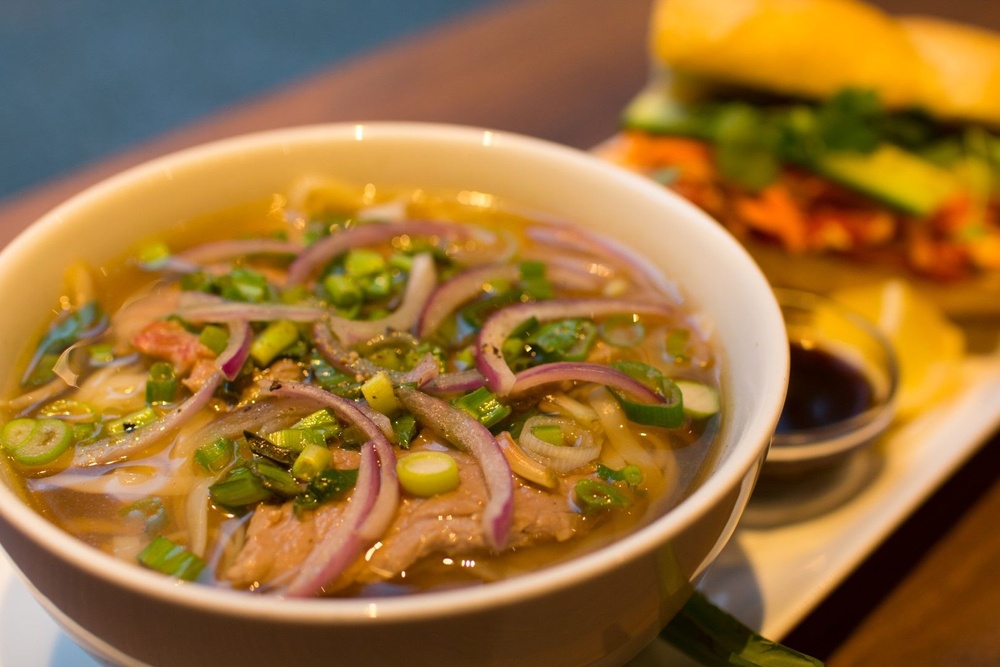 © Hassenmahl
At Ha you will find a very classic version of pho, which you can take home for 7 or 12.90 euros. The beef soup is refined with star anise, cinnamon, ginger and grilled onions. Of course, rice noodles, bean sprouts and fresh herbs are also added to the soup. Roasted beef and fresh garlic can also be added if desired. Canh Chua is on the menu as a vegetarian alternative. A mild, sweet and sour soup with pineapple, tamarind, tomatoes and herbs.
Where: Gollierstraße 39
This content has been machine translated.