A healthy start to the day with porridge from 3Bears
After more than a year of lockdown and life in jogging bottoms, one thing is very important to us right now: spring cleaning inside and out. Normality is slowly returning here and there and it's time for a little more routine. And that starts first thing in the morning with a delicious strawberry porridge from 3Bears. Don't you know it? With a little luck, you'll soon have all the flavors at home, because we're giving away two packages.
Get out your breakfast bowl, because we're serving porridge. But not just any porridge, this one from 3Bears. To explain why it's so special, let's take a moment: Behind 3Bears are Caroline and Tim Nichols, both avid porridge eaters. However, neither of them were convinced by the ready-mixed products on the market - they were either full to the brim with industrial sugar or tasted like nothing. In 2016, they decided to start working on their own porridge and founded the startup 3Bears. You can now find 3Bears porridge varieties not only in online stores, but also in many supermarkets and organic markets.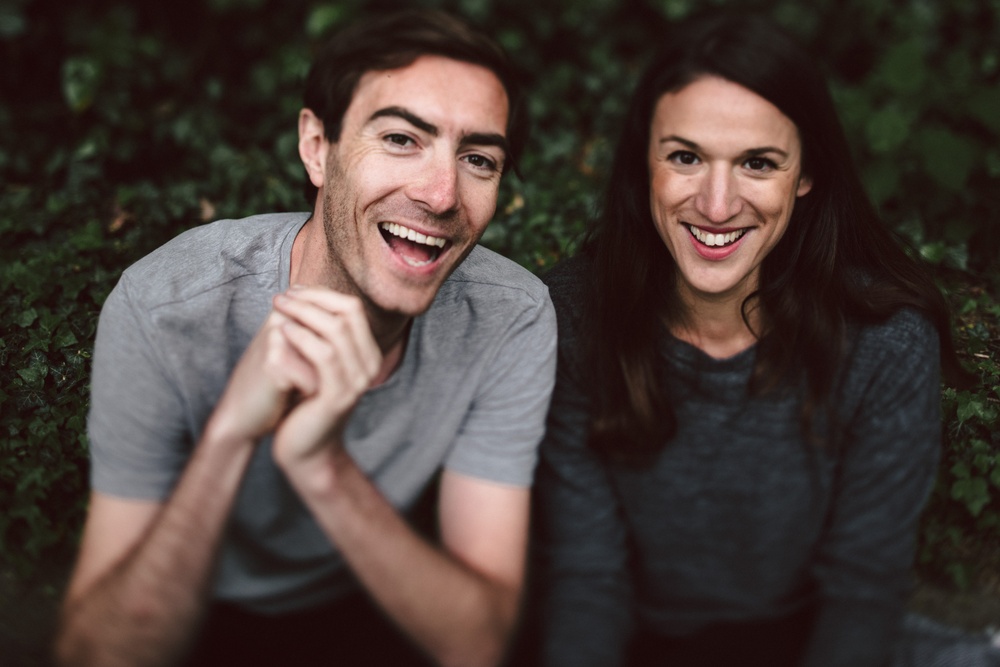 © Alexey Testov
The ingredients
The Porridge Company offers countless different and purely vegan varieties - regionally produced, with lots of fruit and without refined sugar. The oat flakes used come from the Rubinmühle mill in the Black Forest and are mixed and bottled at Lake Constance. For the organic range, Wild Bowls and Wild Kids, 3Bears works with a producer in Franconia who specializes in natural and organically produced food. You can find more information about sustainability at 3Bears here.
Porridge varieties & Overnight Oats & Wild Bowls (Kids)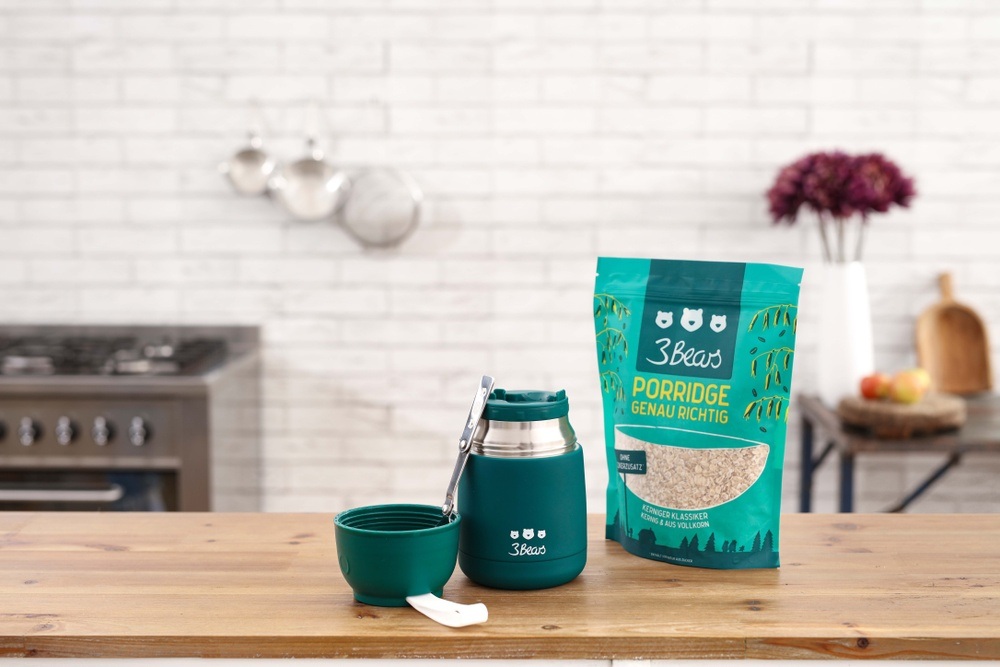 © 3Bears
As far as the classic 3Bears porridge varieties are concerned, you can choose between seven different flavors: exotic fruit, fine cocoa, fruity coconut, cinnamony apple, three kinds of berry, poppy banana and hearty classic. The porridge packs weigh 400g, contain wholegrain oat flakes and consist of at least 30 percent fruit (where included). You can prepare them at home with water or milk.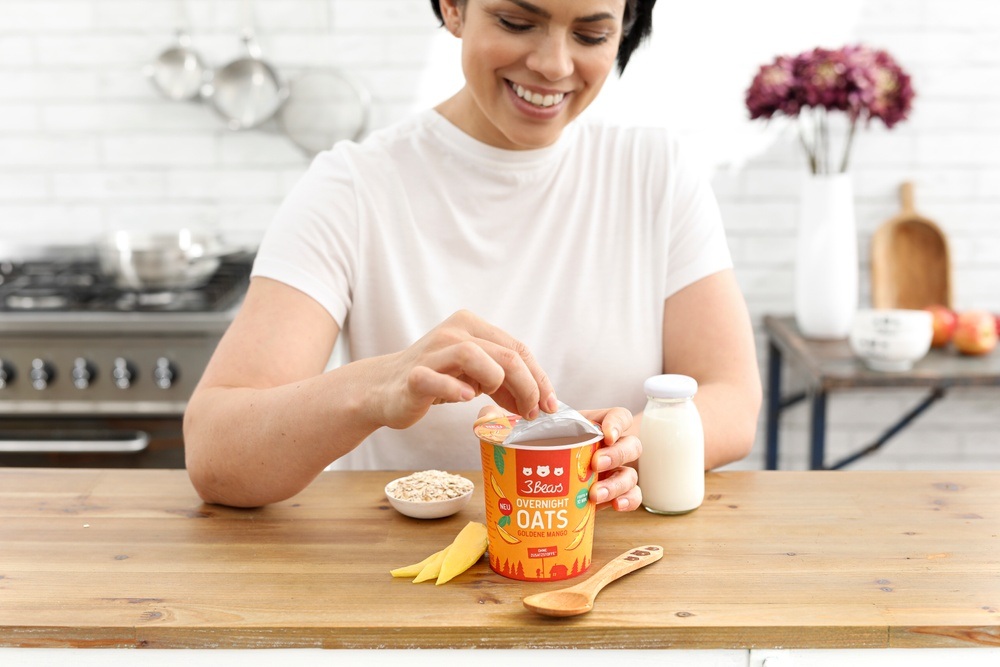 Overnight oats are also very popular in the range. Here, the porridge mix is not in a bag, but portioned to 55g in a cup. Perfect for on the go or a quick breakfast in the office. All you have to do is open the cup, fill it with milk or water up to the bottom line, stir briefly and leave the porridge to swell for ten minutes. Sustainability has also been taken into account here: the Duo cups are recyclable and carry an FSC label. The range includes fine strawberry, golden mango and fine cocoa.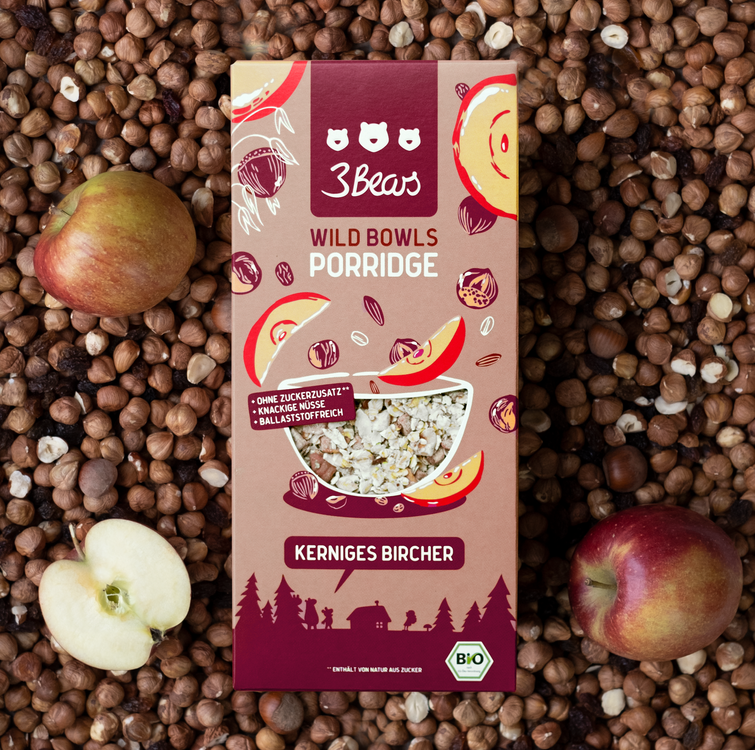 © 3Bears
Finally, we would like to introduce you to the relatively new wild bowls. Unlike the classic porridge varieties, these consist of more than one main ingredient. The Nutty Cocoa, Nutty Bircher and Fine Berry mixes are available for adults, while the Cocoa Banana and Fruit Feast mix has been specially created for children. Thanks to 3Bears, young and old can also "porridge" together.
This content has been machine translated.