Watching the sunset in Munich
We have listed our favorite places to watch the sunset for you in this article. With this in mind: Happy sundowning!
Hacker bridge
Insta-gold, good for wanderlust, climbing artist
The Hackerbrücke is a real classic when it comes to after-work beers and sunsets in Munich. The steel bridge may not be the most comfortable place to sit, but the view is worth the climb every time. The only requirement: you should definitely be free from giddiness when you sit on the bridge railing and keep your beer consumption in moderation so that you can get back down safely. And in summer, it's better to come early, because as I said, the Hackerbrücke is a real hotspot for all sundowner fans.
Where: S-Bahn station Hackerbrücke
Angel of peace
Tinder dates, Bogenhausen chic
How many Tinder dates have already taken place at the Friedensengel? It's probably impossible to count. But the 38-metre-high Friedensengel simply offers the complete romance package: a view of the city, proximity to the Isar and sunshine until the last minute. If you go there for a sundowner, don't forget to bring a blanket for your baby, as the stone floor can get cold very quickly.
Where: Prinzregentenstraße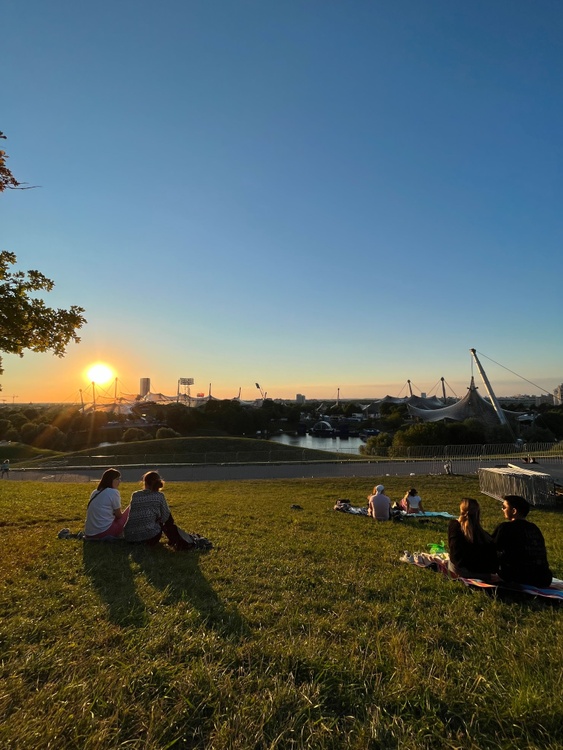 © Luba Schwirtz
Olympic mountain
Concerts for free, picnic hotspot, drama heaven

Once you have made the easy climb up the Olympiaberg, you are rewarded with a view over the entire Olypark. The Olympic Stadium is also within sight and, above all, within earshot. So as soon as there are concerts there again(whenever that may be) and the tickets are too expensive for you or you're happy with "Row Olympiaberg", get yourself up there. Equipped with a blanket to sit on, another to cover up with and a bottle of wine or two, we've already had some unforgettable evenings here with Ed Sheeran and Bon Jovi, among others. What more could you want!
Where: Bus stop Ackermannbogen or subway station Olympiazentrum
Old Utting
Ship romance, sun deck, gastronomy

The ship on the bridge on Lagerhausstraße has become an integral part of Munich's cultural scene. And here, too, you have a wonderful view over Munich and can relax on the sun deck. A big plus point: the Alte Utting has a wide range of catering options (and toilets!) and is therefore ideal for spontaneous sunsets with friends. You can leave your blanket and drinks at home.
Where: Lagerhausstraße 15
Luitpold Park
Little brother of the Olypark, Alpine panorama, not so busy
It's easy to forget about Luitpoldpark in the north-west of the city. The park is not only a popular hotspot for runners, but also offers a view of the mountains in good weather. However, you have to climb the Luitpold hill to get there. Once you've done that, you'll be rewarded with a view over the city - which sometimes even extends as far as the Alps.
Where: Brunnerstraße 2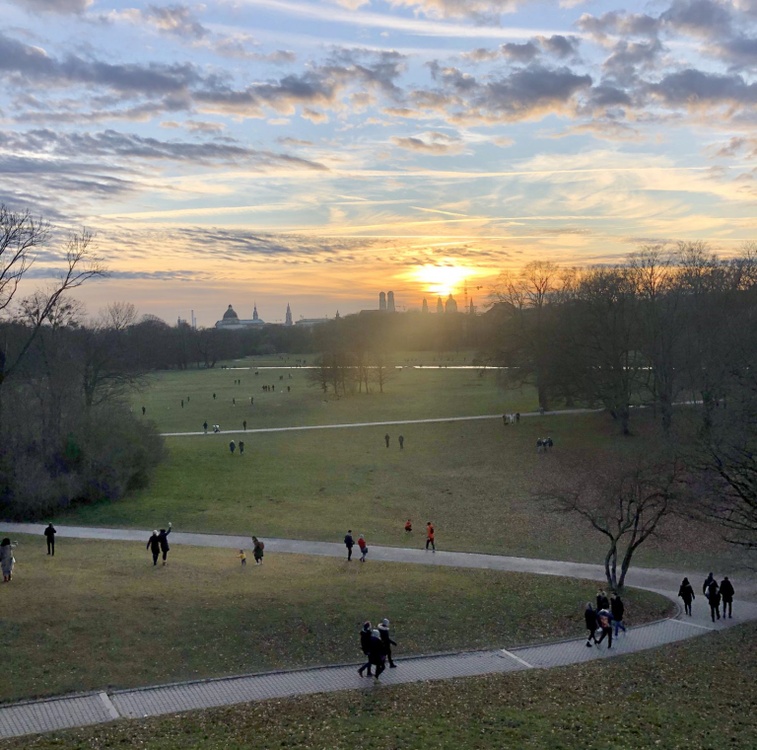 Monopteros
English Garden, Insta-classic, Tourists

Right in the middle of the English Garden is probably one of the city's most famous landmarks - the Monopteros. The small circular temple on the hill is crowded with people all day long - and it doesn't get any better at sunset. But if you're in the area anyway, you can definitely enjoy the view. You can stock up on snacks and cold drinks at the Milchhäusl or Fräulein Grüneis and then get your camera ready.
Where: Southern part of the English Garden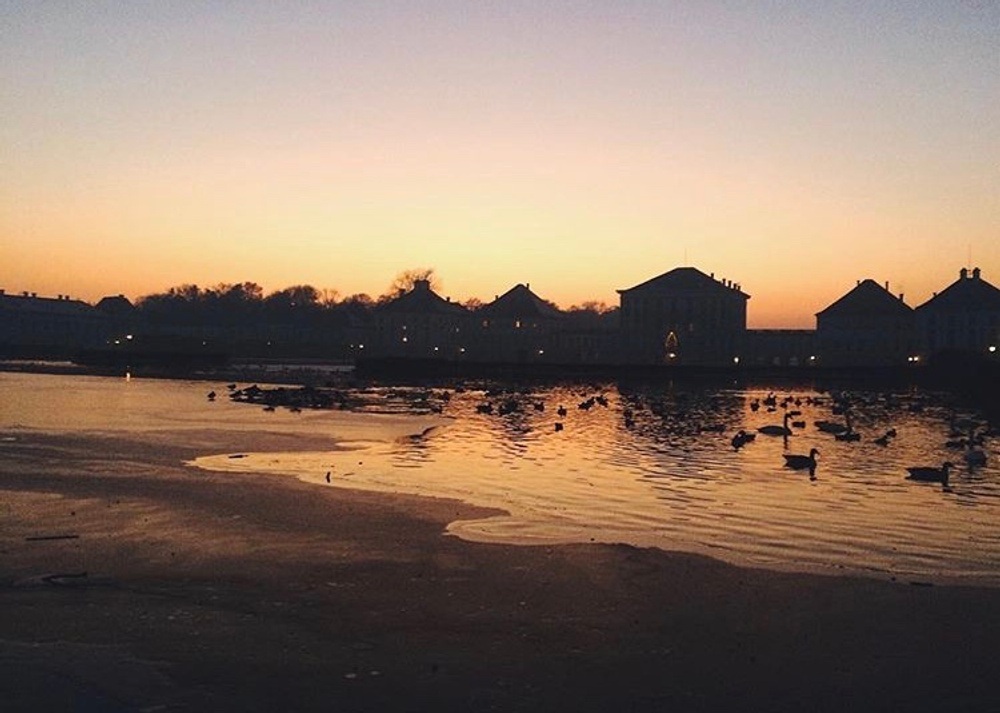 Nymphenburg Palace
Castle romance, swans, what great confessions of love

For all those for whom a setting sun is not enough of a romance factor: add a castle on top and the RomCom scenario is perfect. So pack a picnic blanket, red wine and cheese, head to Nymphenburg Palace and enjoy a royal evening including swans.
Where: Nymphenburg Palace 1
Königsplatz
Step Romanticism, Isar-Athens, Studis

Students as far as the eye can see - TUM is just around the corner (at least before Corona). And they like to spend time on Königsplatz, regardless of the sunsets. Not only is there plenty of space here, but you can also play a round of TT, for example. Another hot tip: you can pick up some wine for the evening spectacle at Von&Zu in Luisenstraße.
Where: Königsplatz 1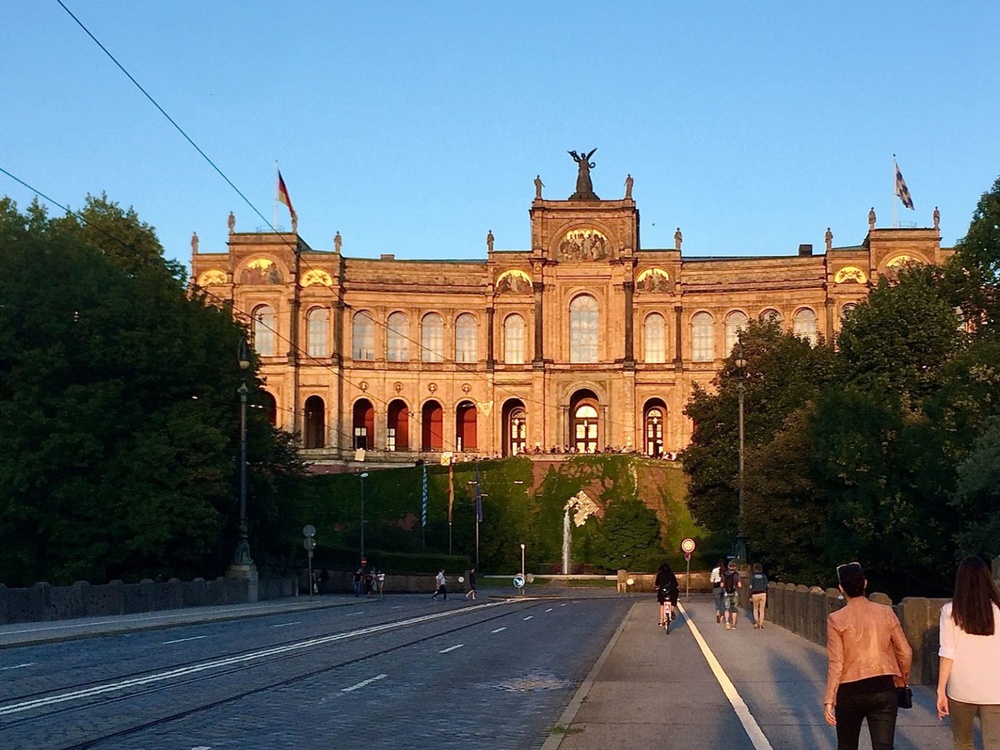 Maximilianeum
Landtag, sitting on the wall, just around the corner from the Isar

Not only is it easy to take the streetcar past the Landtag and impress non-Munich residents, but you can also sit on the wall and watch the sun go down - Maximilianstraße at your feet and the evening sun on your face. Plus point: the Isar is just a stone's throw away if you don't want to go home after sunset on a warm summer night.
Where: Max-Planck-Straße 1
This content has been machine translated.