Excursion tip: The forest gorge near Bad Kohlgrub
In the middle of the forest and only accessible on foot is the Waldschlucht, an old excursion restaurant near Bad Kohlgrub, which Daniel and Julian Hahn are bringing back to life. The building itself is still under construction, but you can already visit the building site kiosk.
MunichMag: An old excursion restaurant in the middle of the forest near Bad Kohlgrub - before we want to know what's going to happen there, let's start with the question: How did you come up with the idea of restoring the forest gorge?
Daniel and Julian Hahn: We, Daniel and Julian, were looking for a project in the countryside that we could do together and that had a more long-term perspective than our interim uses in Munich.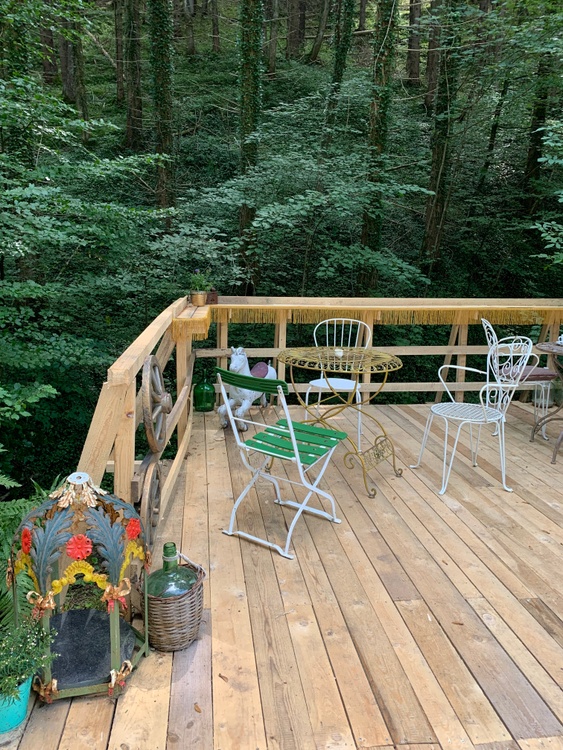 © Regina Bruckschlögl / MunichMag
That's why we've been looking for such a place on hikes and excursions for over 10 years. We asked around, got tips and it was often not easy to find the owners. In this context, we have visited many special places in recent years. However, after doing a lot of research, we always decided against it because we didn't dare to take the step after all or certain difficulties became apparent. Even though the search was sometimes a lot of fun and we now know our way around some parts of Bavaria really well, it was also quite time-consuming and always a bit disappointing when we sometimes spent several years working on an idea or a project that was then not feasible.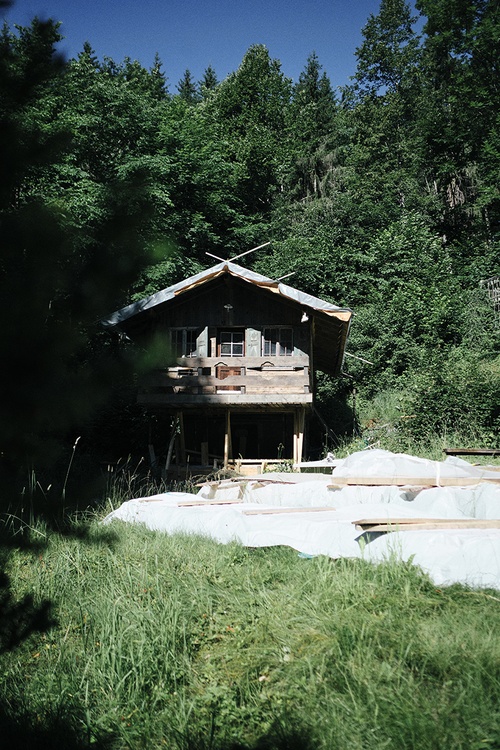 © kokofotografia
We finally found the forest gorge, quite unspectacularly, via a recommendation on Ebay classifieds and were immediately enchanted. A place where exuberant parties can be celebrated without disturbing anyone, within walking distance of the train station and yet beautifully situated in nature, with swimming opportunities and a fresh mountain stream. At the foot of the Hörnle, surrounded by countless natural beauties and sights.
Such places are extremely rare and when it became clear that the municipality would support our ideas for the forest gorge, we didn't have to think twice.
They are busy renovating at the moment: What exactly do you have planned?
In any case, we will reopen the restaurant and spruce up the entire site. There will also be a varied cultural program and perhaps even rooms to rent. The forest gorge used to be known as a place for festivals and culture; in addition to the old natural swimming pool, there was even a theater stage in the forest. We want to revive this old spirit.
© kokofotografia
What is already open is the construction site kiosk. What happens there?
At our site kiosk, you can choose whether to sit on the quiet forest terrace and listen to the splashing of a waterfall or watch the live concerts right by the stage or sit in the sun by the small gorge lake. Even in changeable weather, the small forest gorge can be a really nice experience, as our King's Tent offers cozy weather protection.
We have homemade fries, cakes from our patisserie in Munich and, of course, Helles and Spritz. And the best coffee ever, from the Murnau coffee roastery. So you can spend a super relaxed afternoon with us and switch off.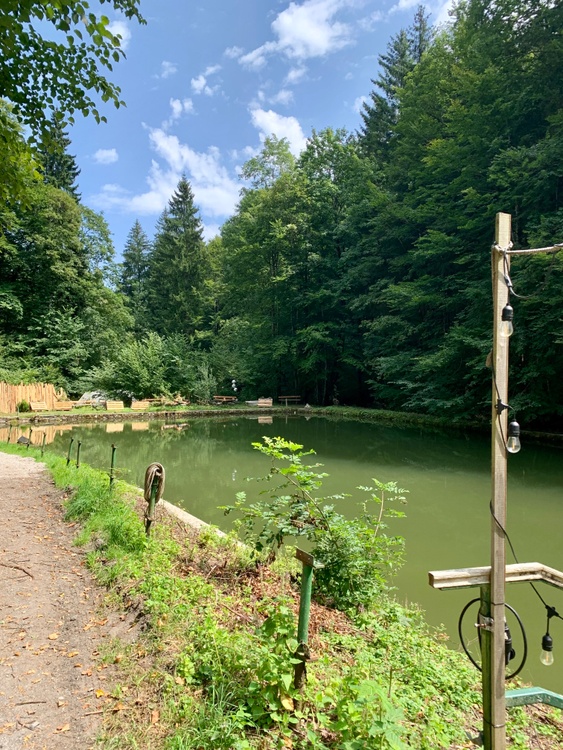 © Regina Bruckschlögl / MunichMag
There is currently still a "No swimming" sign at the Waldschlucht pond. Are there plans for visitors to be able to jump in at some point?
We are already swimming diligently in the pool. As part of the renovations, we plan to completely clean the large pool and add beautiful wooden walkways. In future, our guests will find the perfect place to dip their feet in when the weather is hot. Unfortunately, swimming will only ever be possible at your own risk. An open bathing lake and swimming pool come with quite a few restrictions.
Do you have any tips on what else tourists can do in the area - apart from paying you a visit, of course?
Countless ;-)!
There is a beautiful circular route starting from the sports field in Bad Kohlgrub, via the forest gorge to Ranscher Weiher, past centuries-old farms and a unique moraine landscape. From the hills there is a wonderful view over the Staffelsee to Murnau and the foothills of the Alps.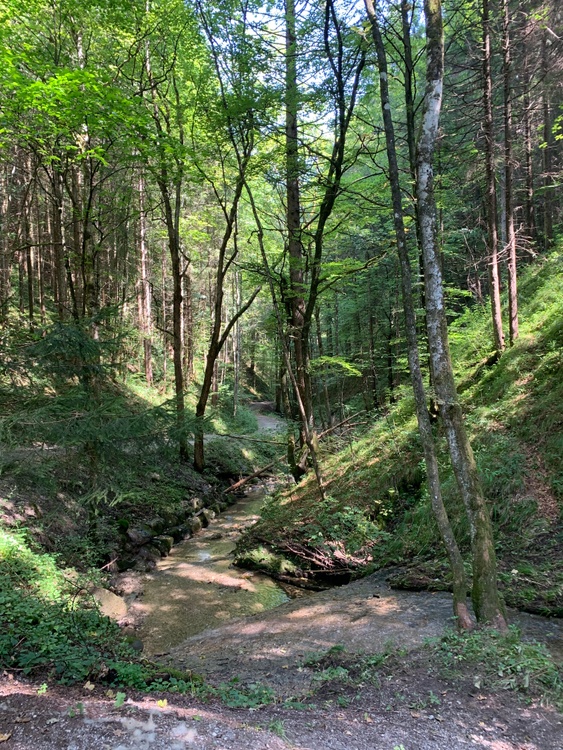 © Regina Bruckschlögl / MunichMag
Of course, the hike or ride on the old chairlift up to the Hörnle (cable car directly in Bad Kohlgrub) is very nice. From there you can then walk down to us.
Another great tour is by bike (1/2 hour) or on foot (2-3 hours) from Murnau, along the Staffel, directly into the forest gorge. Another attraction is the Murnauer Moos - the largest contiguous and largely original moorland area in Central Europe with a magnificent view of the mountains.
The Ammergau Alps Nature Park, the pools in the Ammer Gorge and the Schleier Falls are also well worth a visit.
And last question: What has particularly surprised or delighted you about the "Waldschlucht" project so far?
We were particularly pleased that we were received so openly in the community and after just a few weeks after the start of the construction site kiosk, we were able to welcome many regular customers.
We were a little surprised by the extent of the renovation work. We were expecting a little less work. In a house this old, you open up a wall and find ten new tasks behind it.
This content has been machine translated.